a new type of AGENCY.
We are a for-purpose not-for-profit Co-Agency
We believe great purposeful work for our talent is an output of a fanatical adherence to our principles, our partnerships with our clients, and our purpose. Our values do not stand in the way of our success, they give us the capability to do great work with great people for the greater good and deliver all our talent success over the long-term.
Our values - craft, quality, care - are the bedrock of who we are and how we behave as an agency and as individuals.
Building long-term partnerships based on trust and mutual success with our clients and talent is the cornerstone of everything we do.
We are a for-purpose company and we aim to never wander from the founding vision - the success of our clients, our talent and our communities over the longterm.
A SCALABLE ECOSYSTEM of the best talent.
The agency needs rebooting back to its specialised disruptive roots
The FSC is a collective built from a unique scalable ecosystem of agency products & services executed by the best talent in the business, and managed and assured by the FSC. This dynamic managed network delivers craft, quality and care at a greatly reduced cost.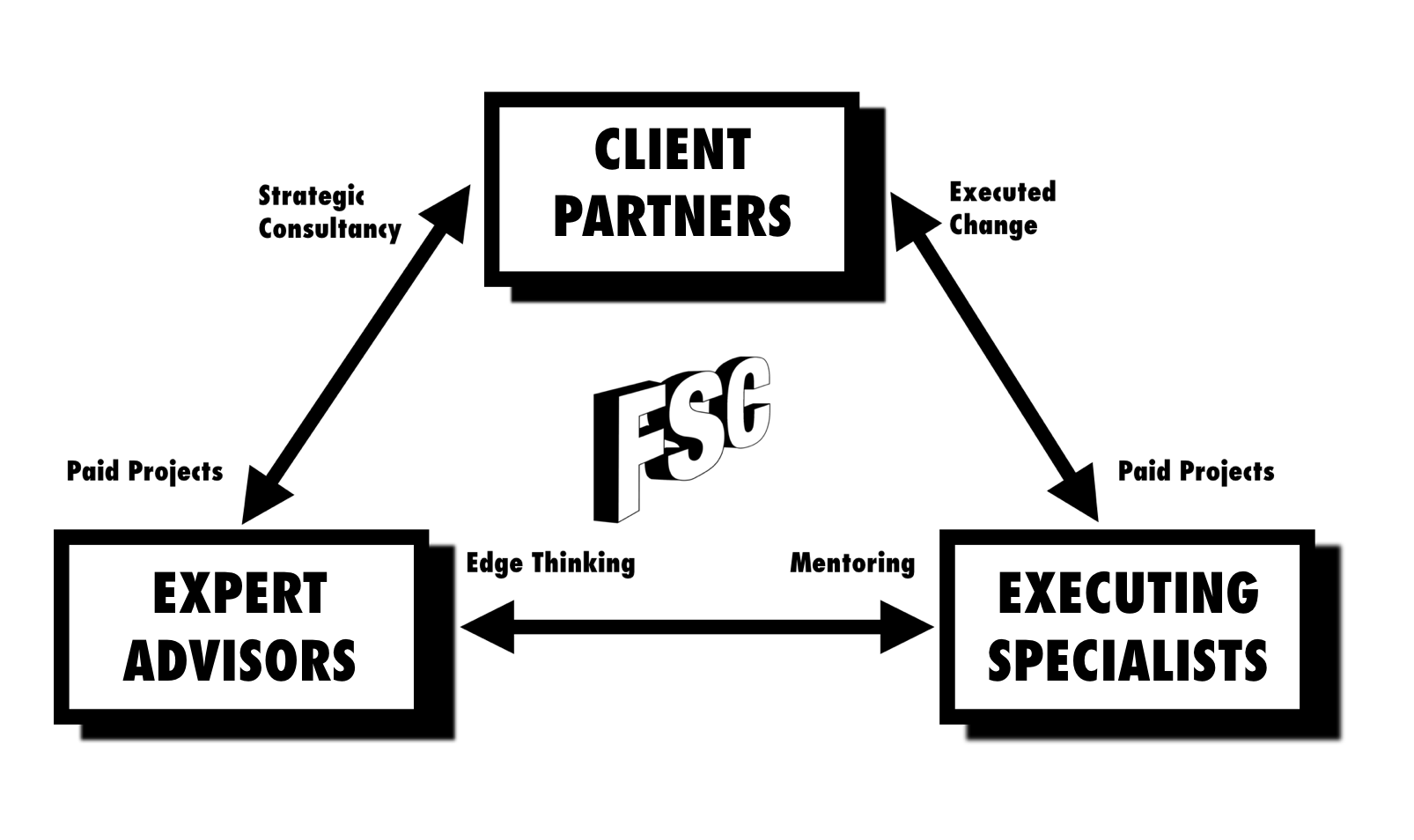 A RADICALLY transparent AGENCY.
Profit Share and Social Impact Fund
The FSC doesn't price projects based on the client's revenue, size, budget, what we can get away with or any other dark art. The FSC is radically transparent around what it charges clients, how much it pays talent, and its operational costs. And a percentage of profits are redistributed to the talent and invested in a Social Impact Fund.
a NETWORK of talented executors.
We have the best Specialist talent to execute change
Our senior multi-disciplinary and talented network of specialists execute change at the core of our client's organisations to make sure they can deliver new innovations ready for tomorrow.
a board of proven change experts.
We have an Expert Advisor for every challenge
Disruption comes from the most unexpected places. Keeping ahead of disruption, and driving the appropriate change to counter the threat of the disruptor, necessitates a very senior and very cross-industry exec level board of expertise. The FSC Expert Advisor Board provides the exact experience and thinking to every change challenge .
20 years of CHANGE experience.
We have helped all types of organisations prepare for disruption through continuous change
Our methodologies and ways of working have been honed over 20 years of industry experience working with FTSE & Fortune 100 companies across all sectors, and are solely focused on helping organisations with the continuous change they need to be driving at their cores.
THINKING from THE edge.
We publish future thinkers to be constantly ahead of the game
We need to be constantly playing at the edge in order to be able to identify new trends, thinking and theory for our clients and talent. The best way to do this is to be part of that future through the publication of interviews, articles and thought leadership from the best future thinkers and doers we can find.
DMag is a new magazine from the FSC focused solely on disruption theory and practice across all industries. Disruptors, disruptees and experts share their knowledge and strategies helping our clients and talent prepare for their futures.
Our whitepapers are in-depth research publications that dig deeper into emerging trends and disruptive technologies. They aim to uncover new insights and strategies and provide intelligence input into our clients' innovation and transformation programmes.
Billed as the punkish love-child of Private Eye and HBR - the FSC Mag is an alternative to the rather corporate, stale and pompous creative industry mags already out there with a heady mix of in-depth future thinking, cynical piss-taking and original funny stuff that may make you laugh.
TOWARDS a Better World.
We are driven to do good for our communities, and the world
We aim to be a force for good in the world. Not only do we choose our clients and talent carefully to make sure we are not doing harm, we put a percentage of our revenues into social impact projects. We want to use the capabilities of our frameworks and tools, the skills and power of our clients and talent, to do good. Not all of our initiatives will be successful, but we will keep trying to do good until we do good.
TOWARDS ZERO WASTE COMMUNITIES.
Ten Green Bottles (www.tengreenbottles.org) is a sustainability consultancy that uses the power of local communities to build innovative solutions to waste, in order to accelerate the move to a circular economy. Ten Green Bottles believes in the power of communities and consumers to affect change nationally, and wants to harness local strength to make a global difference, and begin the journey to more sustainable business models.
Unpackit (www.unpackit.uk) is a behavioural change campaign to convince lunchtime office workers to reduce the plastic pollution of their lunches through moving from one use to reuse by bringing their own lunch container. The UK alone produces more than 170m tonnes of waste every year, much of it food packaging. Some of it is poisonous, and some of it never degrades.
CREATING LOCAL PLASTIC WASTE ECONOMies
PlasticXchange is an initiative to create a local plastic economy by setting up local plastic recycling centres that can turn common household plastic into products which can be sold. This we hope will begin to shift plastic from waste to resource, and help fund other social impact projects around sustainability in the area.
Thumbs up for sustainable toys.
The Green Kid (www.thegreenkid.org) is a sustainable toy certification 'kitemark' to help parents and children identify and avoid toys that damage the environment. We aim to change parents and children's attitudes to toys through targeted 'toy stunt' campaigns, in-school education and the promotion of sustainable toys.
.
CROWDSOURCING SINGULAR SHOPPING DECISIONS
Customer1 (www.customer1.world) is an early stage startup to make aggregated brand sustainability data available to customers at the till in the form of a sustainability score (SUS Score). Via a platform, it will allow customers across the world, at the same time, to form Virtual Momentary Customer Power Groups and make buying decisions together.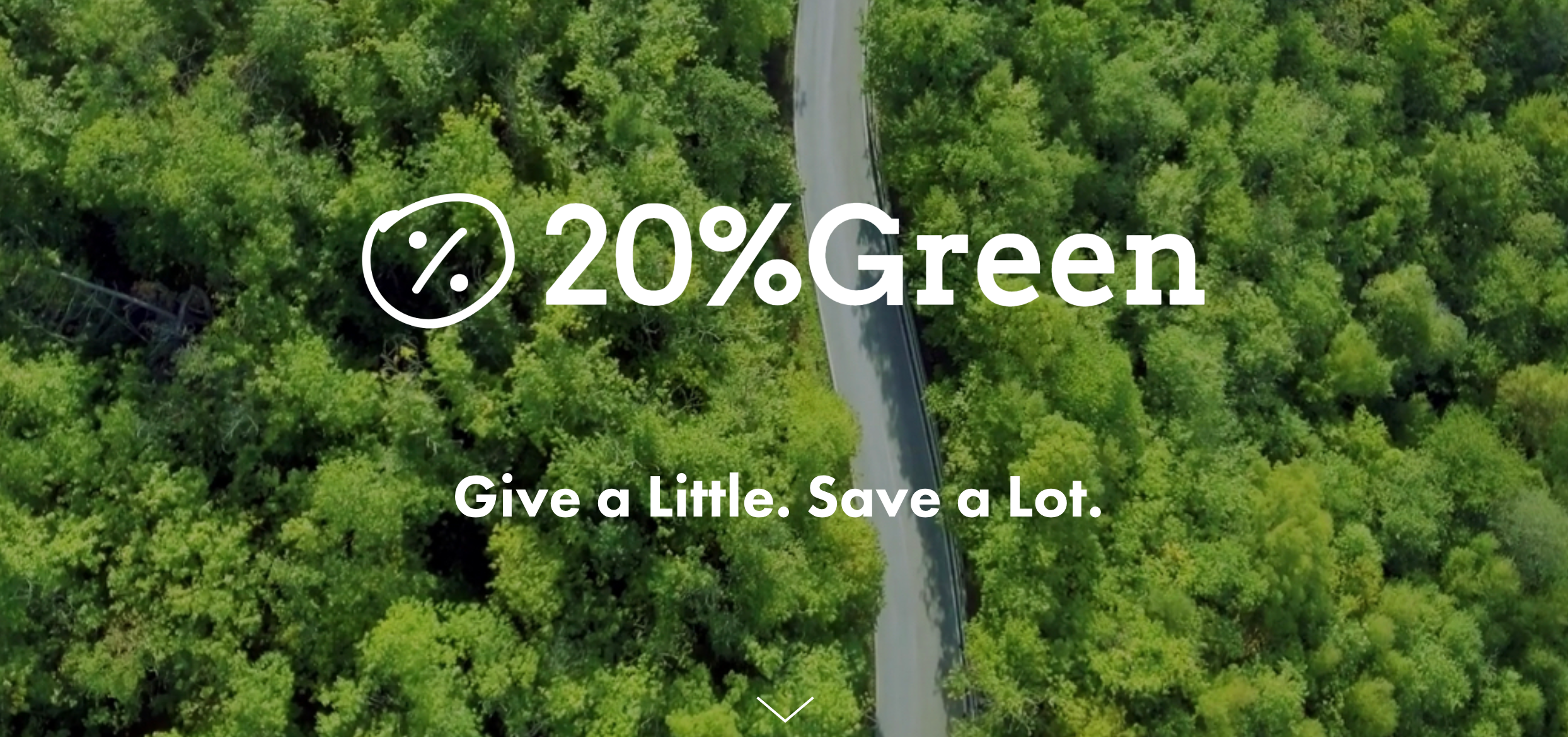 Give a little, save a lot.
20%Green (www.20percentgreen.com) is a pro bono creative talent platform to help kick start new green ideas and support current ones. Using the spirit of Google's 80/20 innovation time rule - but applying it to our free time instead of work time - we want to encourage creative talent to give 20% of their non-work time to a green project.