The DIGITAL GIMP QUARTERLY TRENDS
ONCE EVERY THREE MONTHS, WE PULL DG FROM THE BOOT OF HIS JAG SHIRLEY, TO GIVE US HIS QUARTERLY LOW DOWN ON THE HOTTEST TRENDS AROUND. THIS QUARTER HE TURNS HIS SIGHTS ON THE AGENCY.
THE DIGITAL GIMP'S 7 KEY AGENCY TYPES
OUR CULTURE IS WRITTEN ON THE WALL.
No, literally. We've underpaid some art grad students to stencil something zany on the wall, so you never forget how ingrained it is in us. Of course, it couldn't be further from the truth, but don't forget to snap it and put it on the gram when you stop by.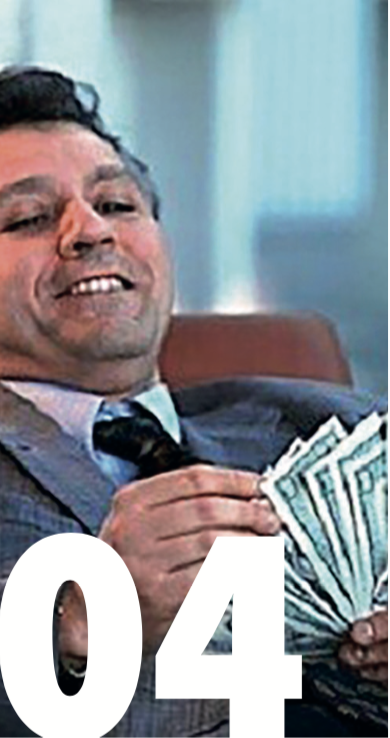 STARTING AN AGENCY PURELY FOR THE EXIT STRATEGY.
The founders are likely jaded and younger than their peers and capitalise on 'playing the market' as honed in the buy-to- let era. The plan is: 1) Come up with a one word, 'disruptive' agency name (e.g. Toast), 2) Fill an open-plan new-build room in Old Street with a bunch of vintage tat (typewriters, boxing gloves), 3) Write some bitchy thought-leadership bits in The Guardian about how 'the industry needs to wake up' and talk about being a 'new breed of agency', then 4) Completely sell out to an ailing trad agency (see Trend 2), 5) Tell Campaign mag it was 'too much of an exciting opportunity to pass up,' that you 'can't wait to bring a bit of Toast to [slave owner name]' and, crucially, you're 'here to break things', before
6) Leaving at the earliest opportunity to start a boutique
gin brand, but not forgetting to 7) Occasionally lecture on philanthropy at awards shows whilst doing none.
THE OLD AGENCY REBOOTED FOR THE MODERN WORLD.
We've been woefully out of touch for years but we just bought a cool, young digi-agency and will be bringing them in-house to completely disregard their steer and erode any edge they have. Our Creative Directors will absolutely refuse to learn anything from them and will enjoy condescending them thoroughly in the name of banter. If you thought this works any other way, you are a starry-eyed child. Have a Mini-Milk
EVERYONE HERE IS A FREELANCER.
Our CEO is also the Creative Director and Business Director. Beyond that, everyone here is a part of a cherished, agile, core team that we have no problem dropping for 2-7 weeks if we think we can wing it in order extract some extra sweet dividends.
OUR WEBSITE IS FULL OF WORK THAT IS GENUINELY ASTONISHING.
It's great being the 15th agency on the roster, in charge of putting final assets on a poster, and then claiming we launched the global through the line campaign for Star Wars.
We will literally disregard every client need and are completely at ease seeing their brand fail in every other metric, as long as our peers like our little film with that techy thing on the side. There are cocaine parties to get to. Caring about anything else is banal.
THE GENUINELY GOOD AGENCY THAT'S TOO NICE TO SURVIVE.
We've survived without any investment by listening closely and caring about our clients. We undervalue our work and suffer from Imposter Syndrome, meaning it's only a matter of time until we go under for being too cheap, our workforce leave because we underpay them (because we're so cheap) or we get absorbed (See Trend 2 again). We're just grateful to be part of this crazy world!
He sleeps in the boot of his S-Class Jag Shirley, he's a middle-aged trend setter, and he gets very angry when the world gets ahead of him without him noticing (so he does his best not to take his eyes off it). Once a Colossus of the Creative Industries, now not so much. He's looking for redemption in the Lady Grey tea leaves of future innovation, and he is so confident he is on to something that he has just got himself a desk (with lockable storage) at WeWork. He's our very own DG and he is soon to have his own show on Sky Channel 679.